Specifications
| | |
| --- | --- |
| Product model |  Windgoo B20 |
Basic Information
| | |
| --- | --- |
| Expand Size |  1200*510*950mm |
| Folded size |  680*370*550mm |
| Weight |  17.5kg/38lb |
| Color |  Black |
Battery
| | |
| --- | --- |
| Battery |  36V/6.0Ah lithium battery |
| Charger voltage |  42V 1.5A |
| Charging port |  DC 2.1 |
| Charging time |  4~5h hours full charge |
Tyres
| | |
| --- | --- |
| Tyre size |  14 X 1.95 inch |
| Tyre properties |  Rubber Pneumatic Tire |
Displays
| | |
| --- | --- |
| Properties |  LCD Simple power display |
| Function |  Battery indicator |
Start-up method
| | |
| --- | --- |
| Riding modes |  Pure electric start/pedal power |
| Cruise control |  6km/h, 15km/h, 25km/h, three-speed cruise control function |
Performance
Motor
 250W 

Brushless motor

Max Speed
 25km/h
Electric power range

 22-25 km ( full power mode )

Max load

 120kg/264lb

Climbing
 15°
Waterproof rating
 IPX4
Foldability
 Compact foldable / 15 seconds to fold
Safety features
| | |
| --- | --- |
| Braking system |  Double disc brakes front and rear, mechanical brakes |
| Light | Front LED headlights, rear LED tail lights with reflector |
Description
Specifications
| | |
| --- | --- |
| Product model |  Windgoo B20 |
Basic Information
| | |
| --- | --- |
| Expand Size |  1200*510*950mm |
| Folded size |  680*370*550mm |
| Weight |  17.5kg/38lb |
| Color |  Black |
Battery
| | |
| --- | --- |
| Battery |  36V/6.0Ah lithium battery |
| Charger voltage |  42V 1.5A |
| Charging port |  DC 2.1 |
| Charging time |  4~5h hours full charge |
Tyres
| | |
| --- | --- |
| Tyre size |  14 X 1.95 inch |
| Tyre properties |  Rubber Pneumatic Tire |
Displays
| | |
| --- | --- |
| Properties |  LCD Simple power display |
| Function |  Battery indicator |
Start-up method
| | |
| --- | --- |
| Riding modes |  Pure electric start/pedal power |
| Cruise control |  6km/h, 15km/h, 25km/h, three-speed cruise control function |
Performance
Motor
 250W 

Brushless motor

Max Speed
 25km/h
Electric power range

 22-25 km ( full power mode )

Max load

 120kg/264lb

Climbing
 15°
Waterproof rating
 IPX4
Foldability
 Compact foldable / 15 seconds to fold
Safety features
| | |
| --- | --- |
| Braking system |  Double disc brakes front and rear, mechanical brakes |
| Light | Front LED headlights, rear LED tail lights with reflector |
Compact Folding E-bike
The Windgoo B20 Compact weighs just 17.5kg and its 10 second folding time makes it simple to pack down.
Smooth Ride
This stylish bike features a 250W high speed motor, 3 power-assisted levels that will give you that extra boost when you need it. From the push of a button, you can switch from manual pedalling to pedal assisted riding.
Young & Relaxed
The value-for-money price allows every young person to afford it without pressure. Our starting point is to save money and be practical.The lightweight and foldable design can better improve your mode of transportation, and you don't need to buy extra tickets for it.
Windgoo B20 Size Guide
YouTube review
See what the evaluation says
See what the evaluation says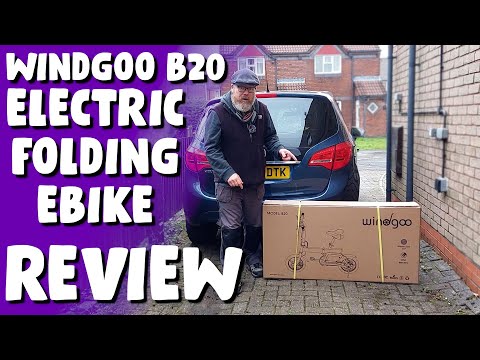 voor licht knippert en rijd niet
k heb 5 maanden een Wind-goo B20 plotseling rijdt niet meer, mijn accu is vol en wanneer ik de fiets aan doen gaat de voor licht meteen knippert .
Excellent commuter bike
I use this to go too and from work most days. It copes very easily with a round trip of 3 miles. It also folds up nicely when putting it in the boot of your car. The pedals are a bonus when going up steep hills otherwise it will struggle. The service levels were excellent
B20
Bike is very good took way too long to arrive 11 days and arrived with damage to seat holder which I repaired to save another long wait to solution. I have ordered another bike as impressed with bike hope it arrives quicker and not damaged
Geweldige rijervaring
Ik kocht het in februari en het was een geweldige rit, woon-werkverkeer en rondhangen. Mijn banden waren een keer lek, maar ze stuurden me snel nieuwe. Ik moet zeggen dat windgoo een groep capabele makers heeft.
Très bien pour le prix
Le vélo a l'air plus solide que certains vélos pliants beaucoup plus chers.
La selle est un peu basse, mais vous pouvez facilement remplacer la tige de selle par une plus longue (28,6 mm)