Specifications
| | |
| --- | --- |
| Product model |  Windgoo M20 |
Basic Information
Expand Size
1130*500*1200mm
Folded size
1130*500*510mm
Weight
22.17kg/48.88

lb

Color
charcoal black
Battery
| | |
| --- | --- |
| Battery | 36V 8.0Ah / 36V 10.4Ah |
| Charger voltage |  42V/2A |
| Charging port |  DC 2.1 |
| Charging time | 4.5-5 hours on a full charge |
Tyres
| | |
| --- | --- |
| Tyre size |  10*2.7 inch |
| Tyre properties |  Rubber Pneumatic Tire |
Displays
| | |
| --- | --- |
| Properties |  LCD Display screens |
| Function | Power switch / battery indicator / mileage display / speed display  |
Start-up method
Cruise control mode
| | |
| --- | --- |
| Cruise control | 6km/h, 15km/h, 25km/h, three gears in cruise control mode |
Performance
| | |
| --- | --- |
| Motor |  350W |
| Max Speed |  25km/h |
| Electric power range |  8.0Ah 28-30km / 10.4Ah 33-35km |
| Max load |  120kg/264lb |
| Climbing |  15° |
| Waterproof rating |  IPX4 |
| Deck Mat Material |  Silicone / Maple board |
Safety features
Braking system

Front and rear dual disc brakes,

mechanical brake

Damping

Rear shock absorber

Light
Front LED headlights, fender tail light
Description
Specifications
| | |
| --- | --- |
| Product model |  Windgoo M20 |
Basic Information
Expand Size
1130*500*1200mm
Folded size
1130*500*510mm
Weight
22.17kg/48.88

lb

Color
charcoal black
Battery
| | |
| --- | --- |
| Battery | 36V 8.0Ah / 36V 10.4Ah |
| Charger voltage |  42V/2A |
| Charging port |  DC 2.1 |
| Charging time | 4.5-5 hours on a full charge |
Tyres
| | |
| --- | --- |
| Tyre size |  10*2.7 inch |
| Tyre properties |  Rubber Pneumatic Tire |
Displays
| | |
| --- | --- |
| Properties |  LCD Display screens |
| Function | Power switch / battery indicator / mileage display / speed display  |
Start-up method
Cruise control mode
| | |
| --- | --- |
| Cruise control | 6km/h, 15km/h, 25km/h, three gears in cruise control mode |
Performance
| | |
| --- | --- |
| Motor |  350W |
| Max Speed |  25km/h |
| Electric power range |  8.0Ah 28-30km / 10.4Ah 33-35km |
| Max load |  120kg/264lb |
| Climbing |  15° |
| Waterproof rating |  IPX4 |
| Deck Mat Material |  Silicone / Maple board |
Safety features
Braking system

Front and rear dual disc brakes,

mechanical brake

Damping

Rear shock absorber

Light
Front LED headlights, fender tail light
Smooth Ride
The M20 has unrivaled smoothness. With its wide deck and oversized tires, it's a pleasant experience whether riding it to work or traveling.
Safety Headlight
The M20 is equipped with two front-illuminated bulbs, one for the distance and one for the ground. Keep your vision safe when you ride at night.
Shock absorption and Rear warning lights
The rear wheel of the M20 is equipped with shock springs, saying goodbye to bumpy roads. The standard rear warning light will glow bright red when vision is blurred, reminding cars behind to keep a safe distance.
Windgoo M20 Size Guide
Top Rated Electric Scooters
Real test video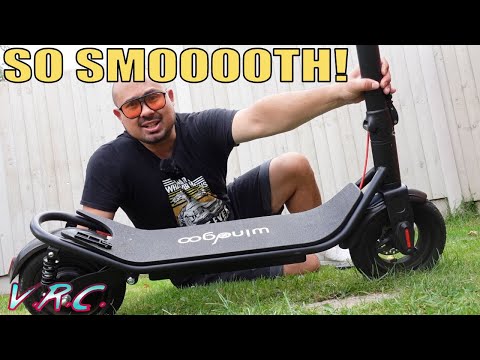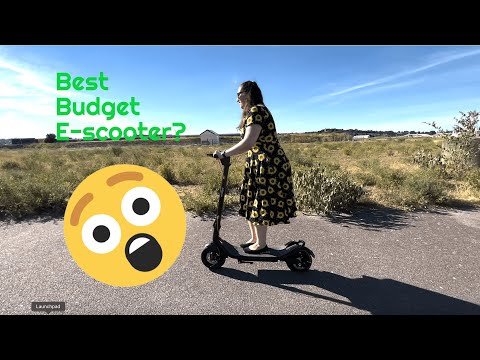 best warranty
My wife bought the M20 for my daughter last Christmas and after 11 months of use the battery had charging issues, when I contacted the after sales center they were very responsive and mailed me a new battery right away. The best warranty service.
Best scooter
I ride it to school everyday!
Trottinette Toeu
Contente de lachat, rien a redire sur la trottinette, bonne autonomie et super freinage. Cependant, la trottinette est arrive avec quelques rayures ce qui est vraiment dommage.. Car le carton tait endommag la livraison
Best comfort/performance ratio for this price?
Mes critres de choix taient: 400 max, pneumatiques de 10 pouces, amortisseurs et doubles freins disques. Tout cela motiv par une mauvaise exprience d'une trottinette avec des pneus gomme pleins, sans amortisseurs qui m'avait dfonc le dos et les genoux tout en me faisant claquer des dents sur les routes un peu uses ou dalles.
J'ai eu deux mauvaises surprises: la trottinette est passe de 400 430 juste avant mon paiement; La description indique deux amortisseurs alors qu'il n'y en a qu'un l'arrire.
Une fois essay je remarque que l'autonomie est plut?t cohrente avec celle annonce (25km): 14 18 km sur route pour mon poids et mon type de conduite une allure de 20km/h la plupart du temps et avec des freinages et acclrations aux intersections. Autant dire que ma conduite n'est pas conome.
Le double frein disque est un plus mais je regrette qu'ils soient actionnables individuellement et non pas centraliss avec une seule manette avec un freinage lgrement suprieur pour la roue arrire. Quoi qu'il en soit il suffit avec l'exprience d'appuyer un peu plus sur la manette de gauche que celle de droite et viter d'y aller trop fort sinon perte d'adhrence et drapage.
Le feu avant est insuffisant pour une bonne conduite de nuit. Un clairage plus fort et plus orient au sol pour voir au moins 10m devant serait mieux. Le feu arrire qui indique aussi notre freinage est trs visible et fonctionne parfaitement.
Je regrette un peu un manque d'acclration mais ce n'est pas tonnant pour un modle aussi lourd avec des roues de 10 pouces ce prix-l. Il faut cependant noter qu'il devient trs rapidement impossible de mont des pentes sans l'aider avec nos jambes.
Il faudra faire attention sa taille qui ne lui permettra pas de rentrer dans tous les coffres car les manettes ne se replient pas. Dans mon cas elle rentre de justesse en diagonale.
Le plateau est recouvert d'une matire drive du ptrole de prs d'un centimtre qui rend la surface efficacement antidrapante, absorbe probablement un peu les vibrations et se nettoie facilement puisque parfaitement lisse et impermable.
La roue arrire est couverte par un demi-arc de cercle mtallique qui est parfait pour y mettre un anti-vol.